Bina Kapı Korkuluk Özel Kesim Sertleştirilmiş Cam
Temperli Camın Kısa Tanıtımı
T empered cam yapı Ticari cam pencere, cam korkuluk, cam balkon r , cam duş kapı, iç cam bölme gibi yaygın olarak kullanılan Yaohua Cam ürünleri de temperli lamine cam, temperli çift camlı cam üniteleri, temperli silksc reen baskılı cam, Low-E çift veya Üçlü yalıtımlı cam, vb. Genellikle, cam korkuluk ve balkon korkulukları, korkuluklar vb. için 10 mm, 8 mm kalınlıktaki laminasyonlu camları kullanırız. Cila ve serigrafi baskıları ile renklendirilmiş, fonksiyonel bir tasarım öğesi olarak yeni fırsatlar yaratır. Temperleme ile, cam ısınırken ve özel olarak soğutulduğunda bir ısıl işlem prosesi, özel özelliklerini alır.
Temper ed Camı Bilgisi
| | |
| --- | --- |
| Thickness | 3-19 mm |
| Max Size | 3300*13500 mm, any customized size can meet your required |
| Min Size | 300*300 mm, any customized size can meet your reuqired |
| Available Type | Float Glass, Heat Reflective Glass, Single Silver Low-E Glass, Double Silver Low-E Glass, Triple Silver Low-E Glass Etc. |
| Color | Clear, Ultra Clear, Green, Blue, Grey, Bronze, etc. |
| Process | Beveling, Drilling, Cutting, Bending, Silkscreen, Painted, Acid Etched, Etc. |
| Edge Processing | Grinding Edge and Polished Edge |
| Corner | Safety Corner and Round Corner |
| Water Jet Cutting | Cutouts, Hinge, Micky Ears |
Temperli cam özelliği
Güvenlik: parçalara ayrıldıktan sonra temperli cam, vücuda zarar vermez.
Mukavemet: temperli cam sıradan camdan 4-5 kat daha güçlüdür.
Sıcak stabilite: iyi sıcak stabilite, sıradan camdan 3 kat daha fazla dayanabilir, ayrıca 200 ° C'nin üstünde değişmeye de dayanabilir.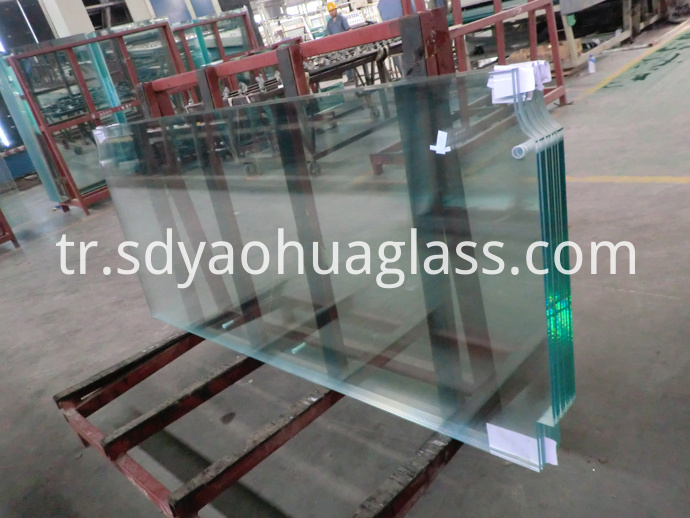 Ambalaj ve nakliye
Üretim süresi: sipariş onaylandıktan sonra 10-15 gün içinde;
İki yaprak arasında kağıt veya yumuşak mantar ile güçlü ihracat kontrplak sandıklar;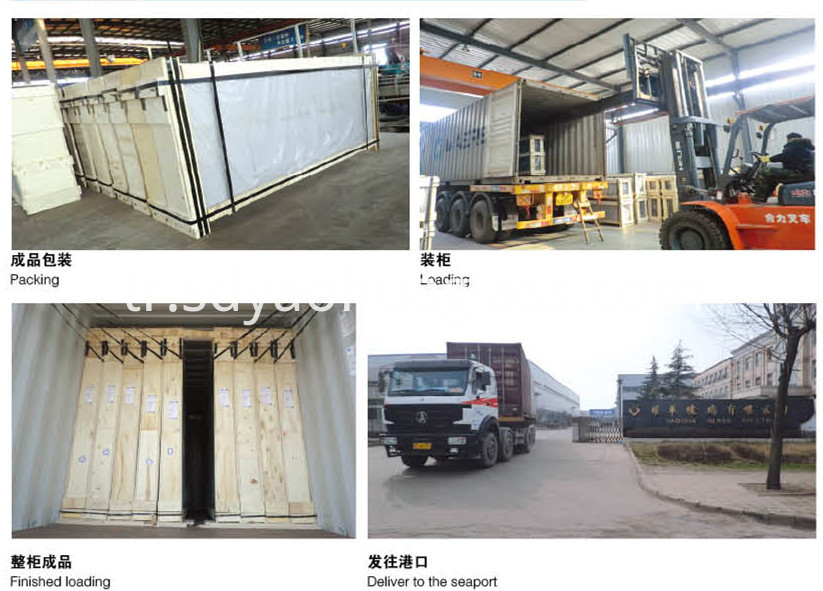 Şirket Bilgisi
Shandong Yaohua Cam Co, Ltd 1985 yılında, 30 yılı aşkın geliştikten sonra kurulan, en büyük 30 bina cam işleme üreticilerinden biri haline gelmiştir. Şu anda yaklaşık 300 çalışanı, 2 büyük modern standart fabrikası, 3 üretim üssü, 40.000 metrekareden fazla üretim alanı var. Firmamız Kalite Yönetim Sistemi Belgesi ve CCC Belgesine sahiptir. Üretim LOW-E camı, temperli cam, yalıtım camı, lamine cam, ipek ekran camı, sıcak bükülmüş cam, kurşun geçirmez cam, 15 mm, 19 mm ebatlarında cam ve diğer derin işleme camlarına bağlıdır.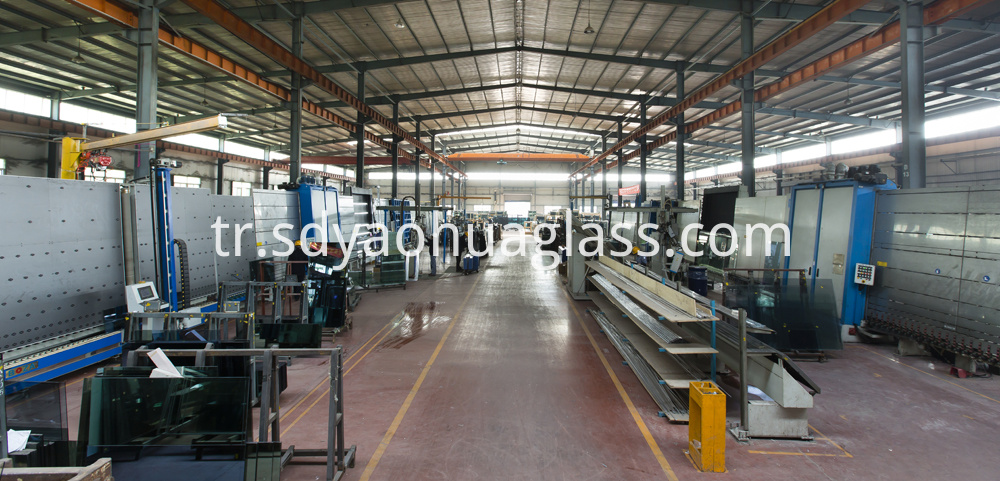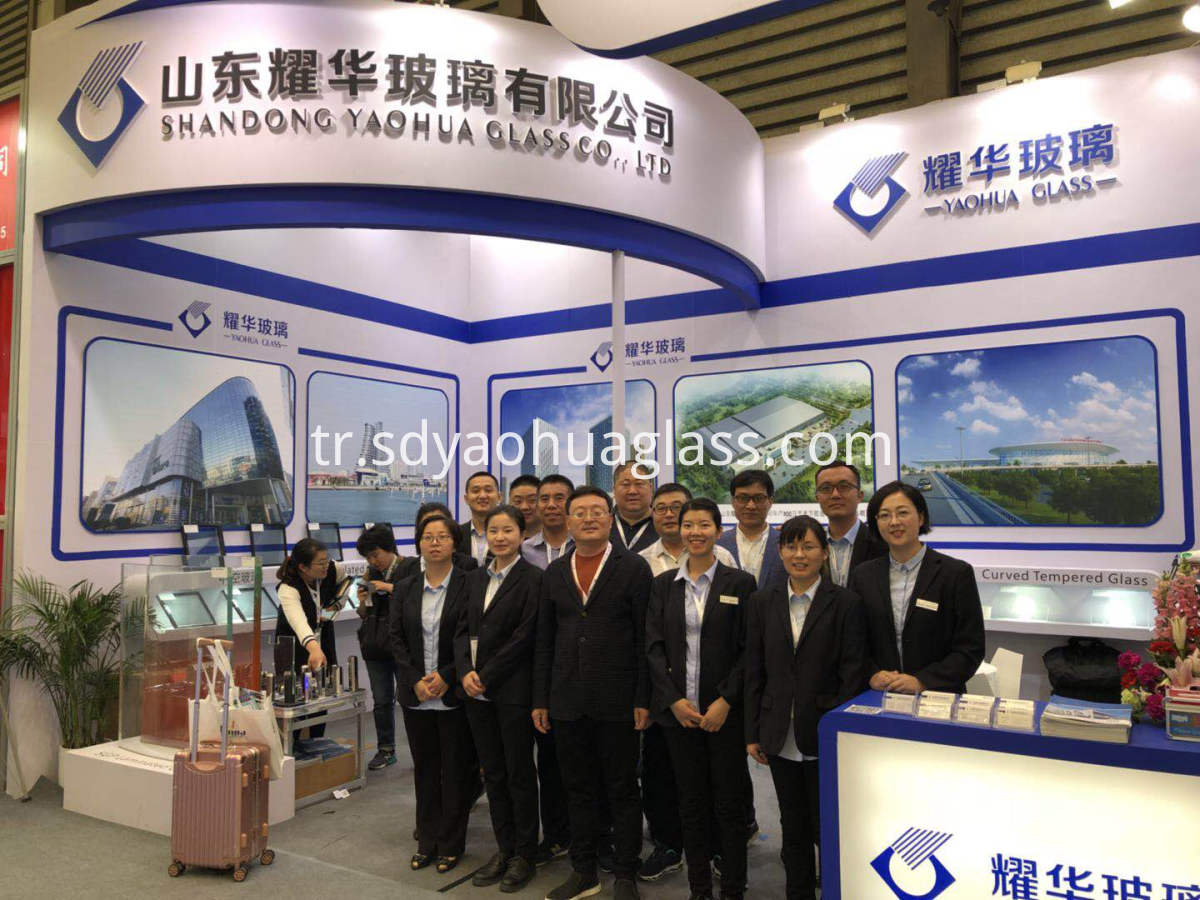 FAQ

1. How can I get the best price?
In order to offer our best price for you, please send all the details as below for us:
a. size and thickness of required glass; b. the approximate quantity; c. if special requirement like drill holes, cut notches, cutouts, acid etched, silkscreen; d. when you need those glass?

2. Where are you located?
Our factory locate in Jinan City, Shandong Province, China. Warmly welcome to visit us any time.

3- What's the fastest production time you can do?
Generally, insulated glass is 7-15 days, tempered glass is 10 days, laminated glass is 7-10 days.

4- How can you make sure the glass won't broken during transportation?
For all the glass from Shandong Yaohua Glass, we will pack them into strong export plywood crates and load the crates into container with metal belt as stable as possible. If unfortunately by accident, the glass broken, we will have insurance to cover the risk, because for all the glass from our company, we will purchase the insurance to cover all the risk for customers freely.

5- Can you accept small quantity?
Yes, but the price will be a little higher, because it needs to share more cost like depreciation of machinery and local charges.

6- Can you send me some samples to check your quality?
Sure, we could send the free samples (except special deep processing glass) for you any time. But for fair business, you pay for courier charge. If you have courier account like DHL, TNT, Fedex, send the detail account information to us, and we send out the samples ASAP. If you don't have courier account, transfer the courier charge for us, we will pay for delivery cost, and we will refund the courier charge for you once we start business.

7- Can you mix different glass in one container?
Yes, we could mix different processing glass like tempered glass, laminated glass and insulated glass in one container. But not with normal float glass.

8- How can I reach you faster?
Call us any time by phone number 0086
15615779827
. We are here for you 24 hours/day, 7 days/week.
Ürün kategorileri : Havalı cam > Cam Korkuluk